THE LAST HAREM a film by Willy S. Regan
Laura, a beautiful, famous and expensive photographic model, arrives in Cannes to pose for a series of photos by a well-known photographer. There she meets Almalarik, oil minister of an emirate in the Middle East. They falls in love with each other and marry. After a happy honeymoon the couple make the trip to the emirate. Once there, Laura receives an unpleasant surprise: he already has three wives?
[read more]
George Lazenby was in two Italian giallos, one in 1972 and (this) one in 1981. Where Aldo Lado's Who Saw Her Die? (1972), is a great stylish thriller, The Last Harem's mysteries take a back seat to the erotic elements. Relying more on sexploitation elements (with soft focus shots), The Last Harem clearly is geared for the late night cinemax viewing. Interestingly, both Who Saw Her Die? and The Last Harem contain actors from previous James Bond films (Thunderball's Adolfo Celi and Moonraker's Corinne Clery).
George Lazenby is Prince Almalarik, heir of some oil fields who seems to have the last remaining harem (of discontent wives). After marrying Sara (the stunning Corinne Clery), Prince Almalarik decides to give up his harem for one woman. Yet these wives refuse to give up that easily and one (mysteriously) kills Sara. From this point on the film becomes a series of flashbacks as Almalarik buries his dead wife in the sand dunes. He has vowed to punish all the wives unless the killer confesses. While he is gone, the wives wax poetic about their origins of arrival to the harem. Lots of romancing and nudity follow as old Almalarik chases after women, gathering everything he wants like a spoiled Prince. The endings twist is an unsurprising event, yet creepily downbeat.
Lazenby is sporting his trademark 70s mustache and actually is quite effective in what is really on- dimensional role. Director Sergio Garrone had previously helped pen the cool giallo Death Knocks Twice, but in this film he seems to have gone a little lazy. There are however some nice shots to be found, for I like when (wife #4) Laura's (Daniela Poggi) arrival, with the burning oil fields for-shadows her doomed hellish imprisonment. At times the music soundtrack has some nice moments as well, in a typical surreal Italian manner. [/read]
| | |
| --- | --- |
| CODE | 062 |
| ORIGINAL TITLE | L'ULTIMO HAREM |
| DIRECTED BY | WILLY S. REGAN |
| CAST | CORINNE CLERY, GEORGE LAZEMBY, DANIELA POGGI |
| PRODUCTION | AMAKAR INT'L FILM, BARBARA SEELK FILM PROD. |
| PHOTOGRAPHY | Fernando Arribas |
| MUSIC | Stelvio Cipriani |
| EDITING | Gianfranco Amicucci |
| GENRE | EROTIC |
| YEAR | 1981 |
| COUNTRY | Italy, Spain, West Germany |
| TIME | 90' |
| AVAILABLE | FRENCH, JAPANESE, RUSSIAN, TURKISH, ITALIAN |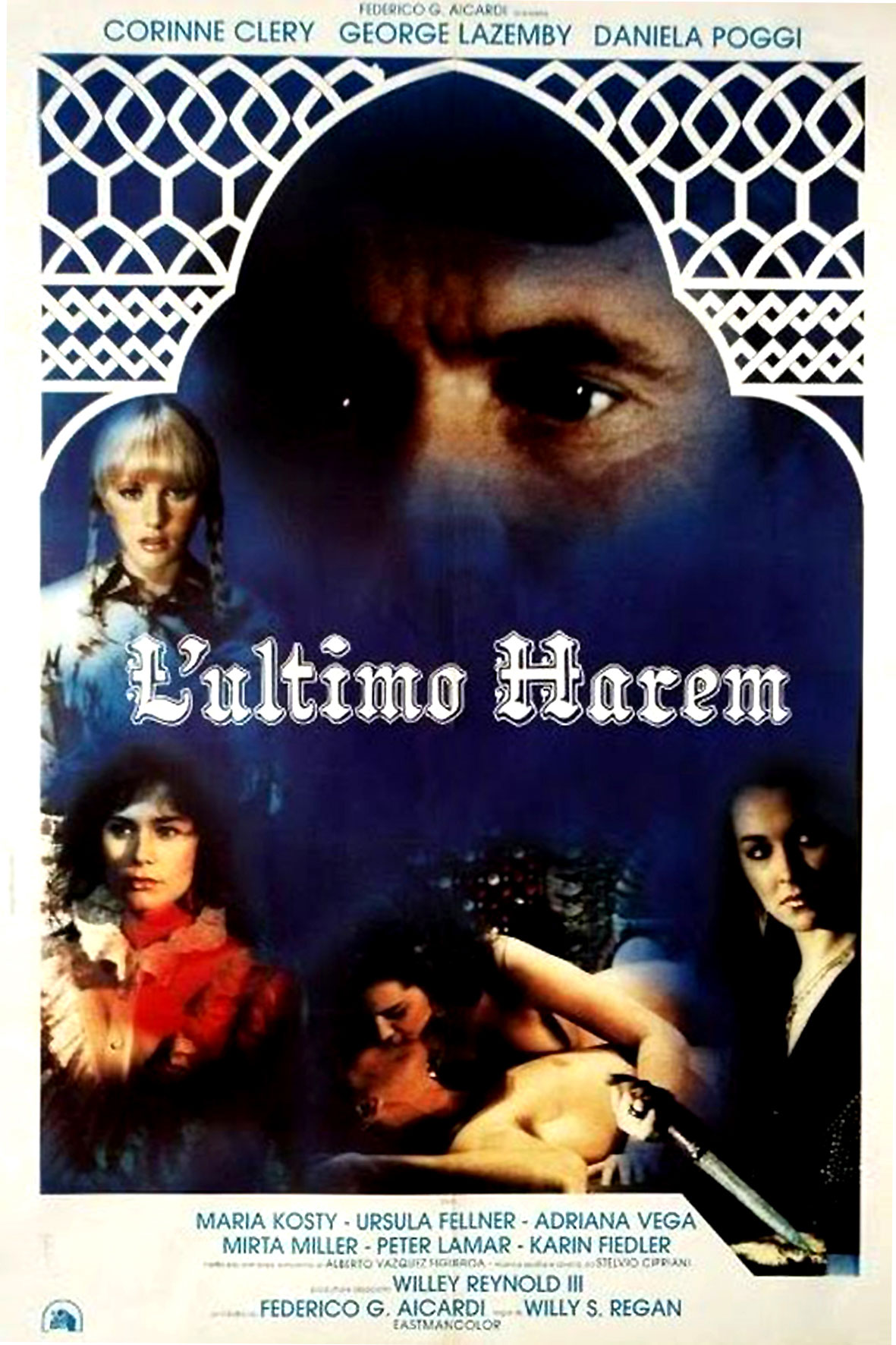 Email us to require password